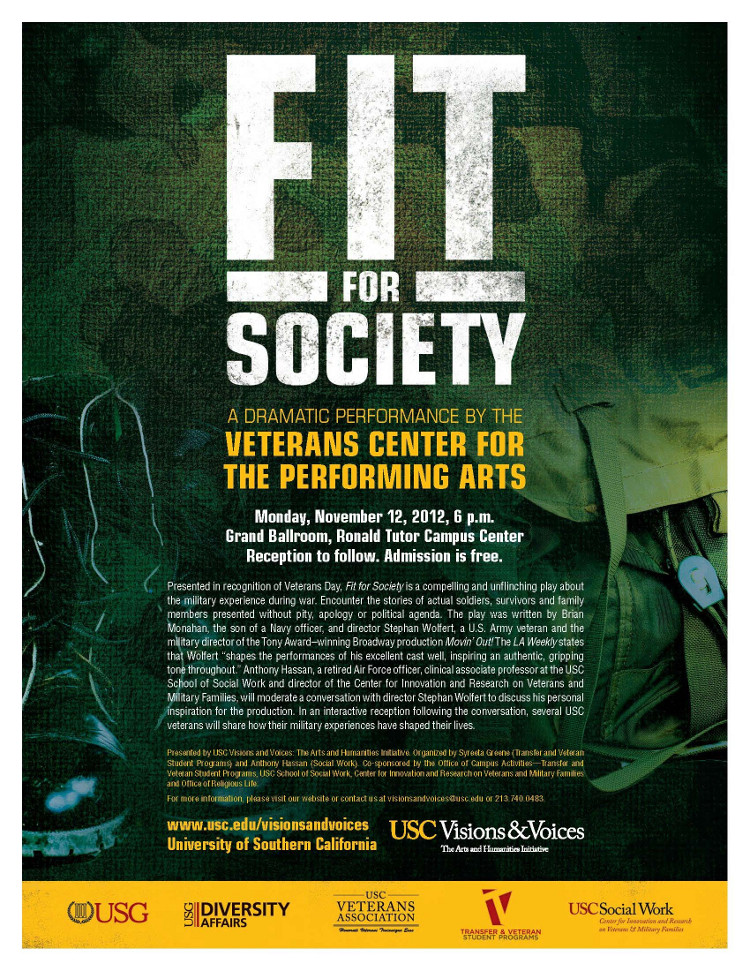 Monday, November 12, 2012  6pm
Grand Ballroom, Ronald Tutor Campus Center.
Reception to follow. Admission is free.
FIT FOR SOCIETY
Written by
Brian Monahan & Stephan Wolfert
Directed by
Stephan Wolfert, the military director of the Tony-Award-Winning Broadway Production Movin' Out!
FIT FOR SOCIETY is a compelling, unflinching, live presentation of the trials and anecdotes of the military experience during a time of war. Honest, funny, moving, poignant and awe-inspiring, FIT FOR SOCIETY is told from the perspective of actual soldiers, survivors and family members. Experience these actual stories presented without pity, apology or political agenda.
FIT FOR SOCIETY CONTAINS STRONG LANGUAGE AND SOME PROFANITY
In a 65 minute presentation, you will meet:
Drill Sergeant Hill: The consummate military mentor. In spite of a cleft palate, he excels to epitomize what inspires men and women to become great soldiers.
Colonel "Gump" Gaines: The seasoned, weathered, professional, career military officer. Humble, in spite of having seen it all, from the fall of communism to the expulsion of Iraqi forces from Kuwait. All anyone ever wants to know is if he's ever killed anybody.
Lance Corporal Wheeler: A young Marine who lost both legs from an I.E.D. in Iraq. His injuries are so new that he avoids his situation by making people laugh.
The Army Combat Veteran: This man's gift is combat. The saying is "bad civilian, good soldier." He is just a man who doesn't fit in the civilian world and is very good at war.
Female Air Force Officer: Women have the "double whammy" of dealing with all that comes with combat regardless of gender, AND all that comes with being a woman in command of men in combat.
Male Spouse: It's been said that behind every good man is a great woman, so it stands to reason that behind every good soldier there's a great civilian. It's hard enough to be a spouse, but try being the male spouse to a female Marine.
Navy Submariner: Before there was e-mail and video conferencing soldiers and loved ones shared their lost time with letters and tapes.
---
RED BLACK & BLUE
is a celebration of African-American soldiers, their contributions and how they shaped our country. From Yorktown to Afghanistan, from Slave Patriot Austin Dabney to General Colin Powel, Wolfert has created a "masterful work" in order to examine these extraordinary Americans and their incredible contributions to world history. "Considering the stresses and strains endured by African-Americans in the defense of our country, it's little wonder that we have so many heroes among us…" Former Secretary of Defense William Cohen, 1998.
During this sixty-five minute production audiences will meet:
Air Force Col. Guion S. "Guy" Bluford, after combat missions over Vietnam, this pilot flew on to become America's first Black Astronaut.
Benjamin O. Davis Sr. on Oct. 25, 1940, became the first African American to hold star rank in the U.S. Army and in the armed forces. He goes on to become a member of the "Tuskegee Airmen".
1862  Harriet Tubman, Described as "the only American woman to lead troops, black or white, on the field of battle," she and men under the command of Colonel James Montgomery freed 750 to 800 slaves, confiscated property worth thousands of dollars, and destroyed several million dollars of commissary stores and cotton.
Lillian Fishburne, the first female African-American to be promoted to flag rank in the U.S. Navy, "is a woman whose story helps us to understand the truth that women are an indispensable part of today's military," former Secretary of Defense William Cohen. 1998
Sergeant Henry Johnson, the first African American to win the prestigious "Croix de Guerre awarded by the French government for actions during WWI. Sergeant Johnson was a member of the 369th Infantry Regiment, the first all-black U.S. combat unit to be shipped overseas during WWI. The Germans dubbed this unit "Hellfighters."
First Officer Harriet M. West, was criticized for remaining in uniform while her sister soldiers suffered. In a 1943 radio broadcast, "Waddy" addressed her detractors, saying that joining a segregated military "which does not represent an ideal of democracy" was not "a retreat from our fight" but a contribution to realizing the ideal.
Slave Patriot AUSTIN DABNEY who on 14 February, 1779 won fame for his participation in the Battle of Kettle Creek, Georgia. During this clash, American militia successfully defeated a Tory brigade. Dabney was the only black who fought in this military action.
RED, BLACK & BLUE is presented by the Veterans Center for the Performing Arts (VCPA), a Los Angeles based, professional theatre company presenting new works that deal with contemporary issues of acceptance. Committed to its mission of celebrating communities by uniting the civilian and the veteran, the VCPA presents artists of diverse ethnicities, genders, orientation and abilities.
Red Black & Blue Press Release
---