---
The Head of Richard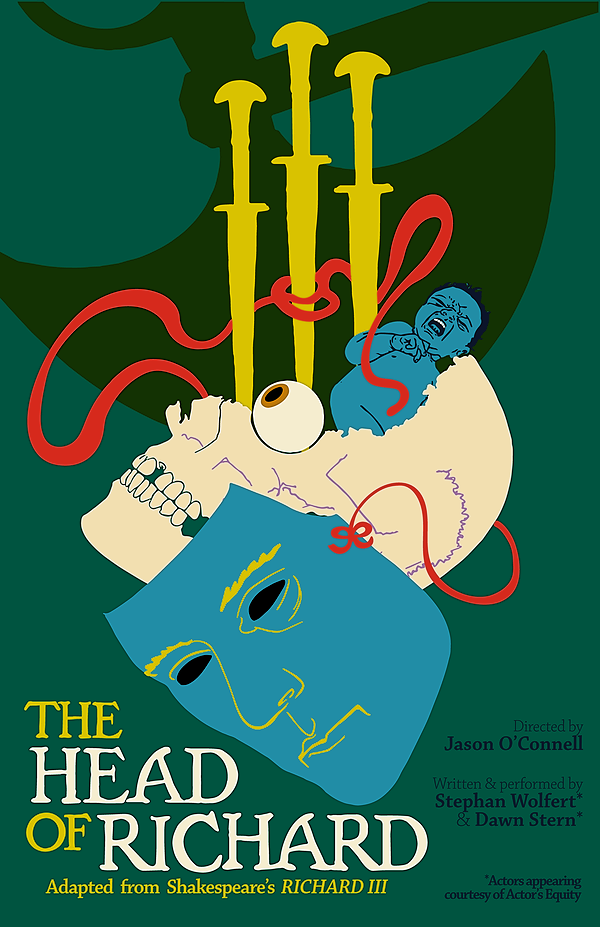 Directed by Jason O'Connell; Written and Performed by Stephan Wolfert and Dawn Stern; Choreography by USMC veteran, Roman Baca
On the eve of battle, Richard III faces his mother, his life of violence, his shame and himself.
The HEAD of RICHARD is a two-actor, 50-minute adaptation using only Shakespeare's text from Richard III. This retelling of Richard III from a military veteran's perspective looks at the havoc created by emotional deformity from chronic abuse and humiliation.
The Head of Richard was created by Army veteran Stephan Wolfert -awarded the 2019 Max Gabriel Award from National Alliance for Mental Illness (NAMI) presented in grateful recognition of Wolfert's outstanding ability to artistically and powerfully share his story in order to broaden the understanding of PTSD and other mental health challenges faced by our veterans.
Content Warning: The Head of Richard includes content that may be upsetting for some audience members, including enactments of violence: verbal abuse, murder, self-harm, and war.
Poster graphic design by Clara Moore
---
Make Thick My Blood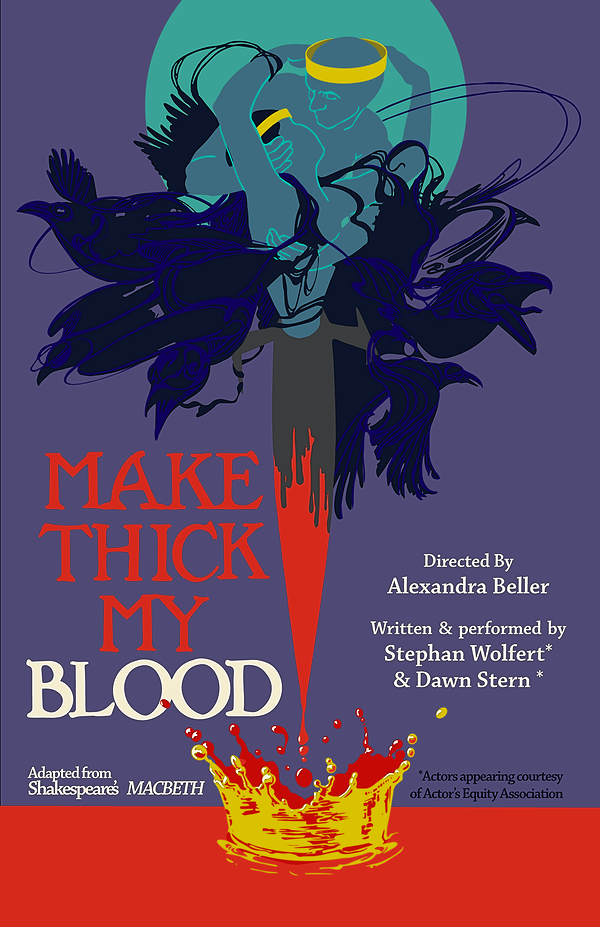 Directed by Alexandra Beller; Written and Performed by Stephan Wolfert and Dawn Stern
Review by 'Stage and Cinema'
Review by 'InfiniteBody'
A two-person, radically physical show, Make Thick My Blood confronts the interplay between gender, power, trauma, and magic as experienced equally through the language of Shakespeare and visceral embodiment.
This two-person, 55 minute adaptation of Shakespeare's Macbeth extracts the relationship between Macbeth and Lady Macbeth to retell their story from the perspective of trauma survivors. Rich movement throughout the piece highlights the couple's pain, danger, desperation, and disconnection with their own humanity.
Make Thick My Blood, adapted by Army veteran, Stephan Wolfert and his wife, Dawn Stern, marries extreme physicality with Shakespeare's text allowing the audience a unique glimpse into the world of complex PTSD.
Content Warning: Make Thick My Blood includes content that may be upsetting for some audience members including enactments of the loss of a child, murder, suicide, and war.
Poster graphic design by Clara Moore
---
She-Wolf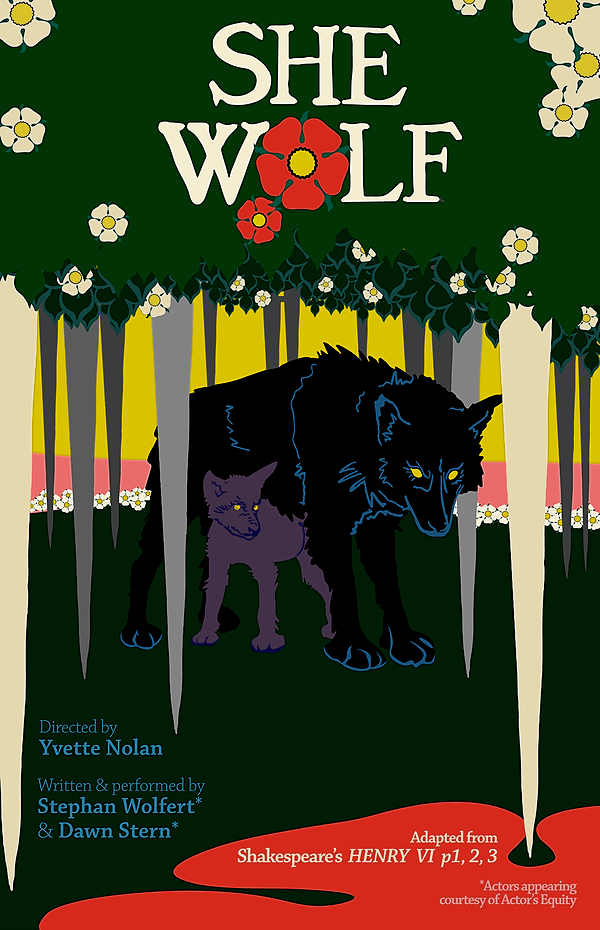 Directed by Yvette Nolan; Written and Performed by Dawn Stern and Stephan Wolfert
Review by 'On and Off Broadway'
From captured princess to Queen of England, from warrior to "witch", She-Wolf tells the story of the rise and retreat of Shakespeare's Margaret d'Anjou.
At fifteen, Margaret of Anjou was taken as a prisoner of war, ransomed off for land by her father, propped up as a token queen to a feckless king, and thrown into a 'nest of scorpions' in the English court. She-Wolf follows Margaret, in Shakespeare's own words, as she fights her way through Henry VI, parts one, two and three to her final departure towards France at the end of Richard III.
She-Wolf is a two-actor, 60 minute adaptation of four Shakespeare plays (Henry VI, p1, 2, 3, Richard III) telling the story of the rise and retreat of Shakespeare's Margaret of Anjou. In 2019 She-Wolf received an award from the Dramatist Guild Foundation.
Content Warning: She-Wolf includes content that may be upsetting for some audience members including enactments of beheading, depictions of war violence, and abusive language. Audience members should be aware there is a realistic prop of a severed head that is made to resemble one of the actors.
Poster graphic design by Clara Moore
---
Cry Havoc!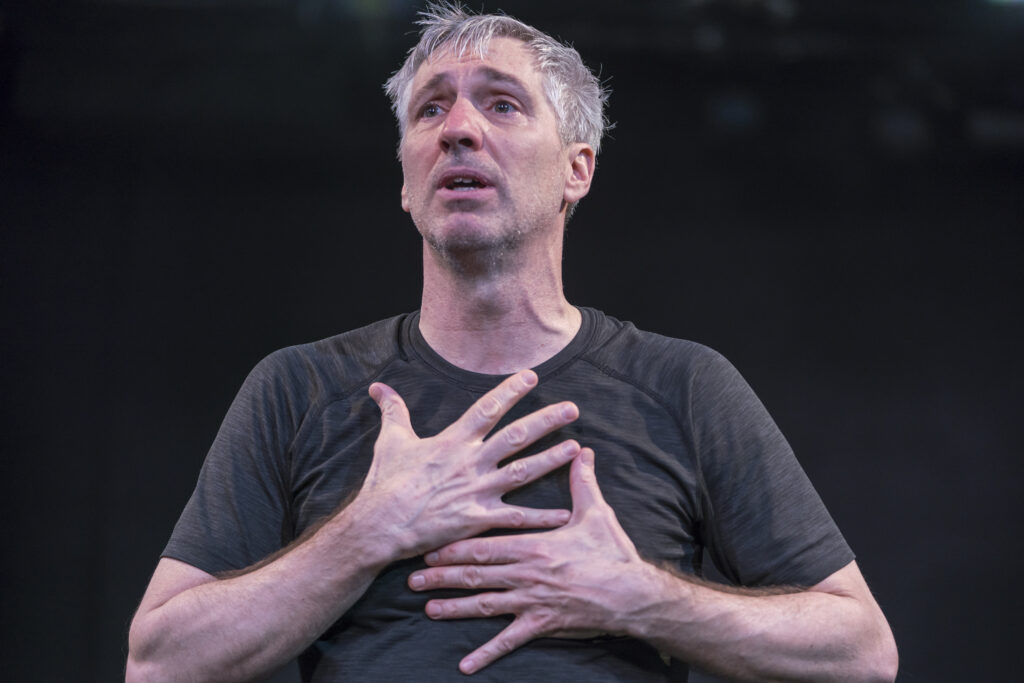 After two years of paralysis from a high school sports injury. After six years in the United States Army. After a full blown transition into a classic case of Post Traumatic Stress Disorder, Stephan Wolfert hopped off an Amtrak train deep in the mountains of Montana. Far from home. Close to the middle of nowhere. And without the first damn clue of what to do for the rest of his life.
Until, as Fate would literally have it, he stepped into a local theater and saw a production of William Shakespeare's Richard III.
Twenty years later, using Shakespeare's timeless words, and a few of his own, actor/veteran Stephan Wolfert in Cry Havoc! leads us on an interactive journey to meet Shakepeare's veterans.
He also brings us face to face with one of the most vexing military – and civilian – problems of our time.
Men and women are tested and trained before entering the military. While serving in the military, they continue to be tested and trained to ensure "combat readiness". Or, as Wolfert suggests, to harness their "berserker energy". Berserkers were Norse warriors of old who fought with a trance-like fury, and the value of that spirit of rage is as important to the military of today as it ever was.
But there's no "off switch". After years of testing and training to maintain combat readiness, there is no testing and training to leave military service and rejoin the civilian world. No testing to ensure "NON-Combat readiness". No training to eliminate our warrior's "berserker energy". Leaving the "berserker" to pose the unanswered question: "Now what?"
Shakespeare had something to say about that. He wrote about the relationships between veterans, politicians and civilians. He wrote about how these relationships can either prevent or create havoc.
Cry Havoc! is a one-person play that unites veterans with civilians. It shows us that the military men and women of Shakespeare's time wrestled with the same hopes and worries that occupy our modern lives. It explores the difficulties that our veterans and their families face.
And maybe, just maybe, it will help them eliminate the berserker and truly come home.
Posters and Handouts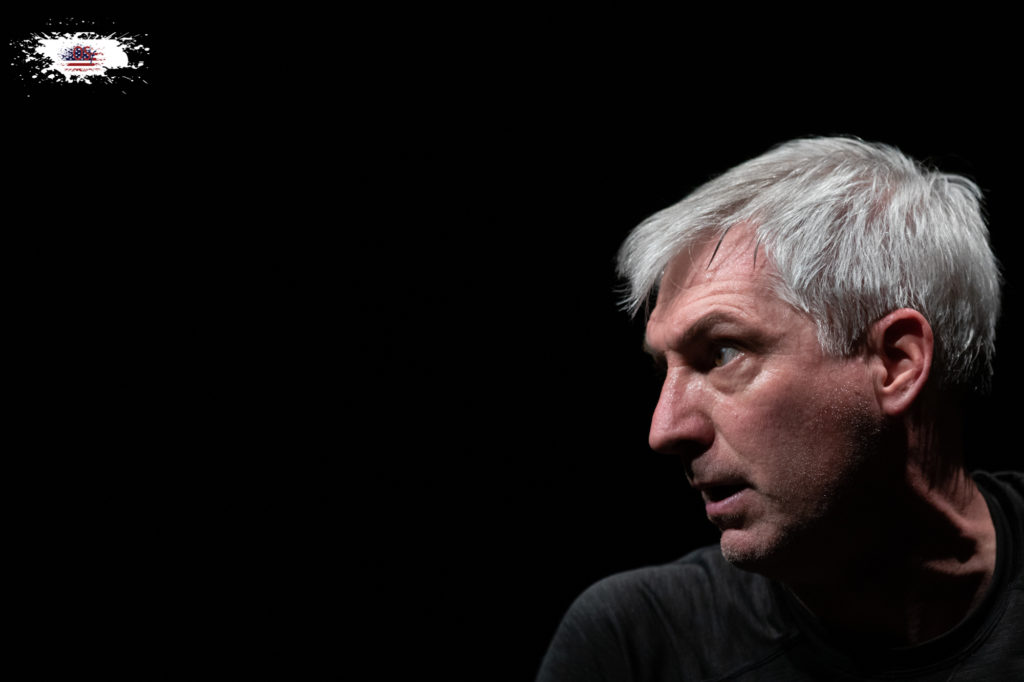 See here additional reviews and interviews for Cry Havoc!
---
Past Shows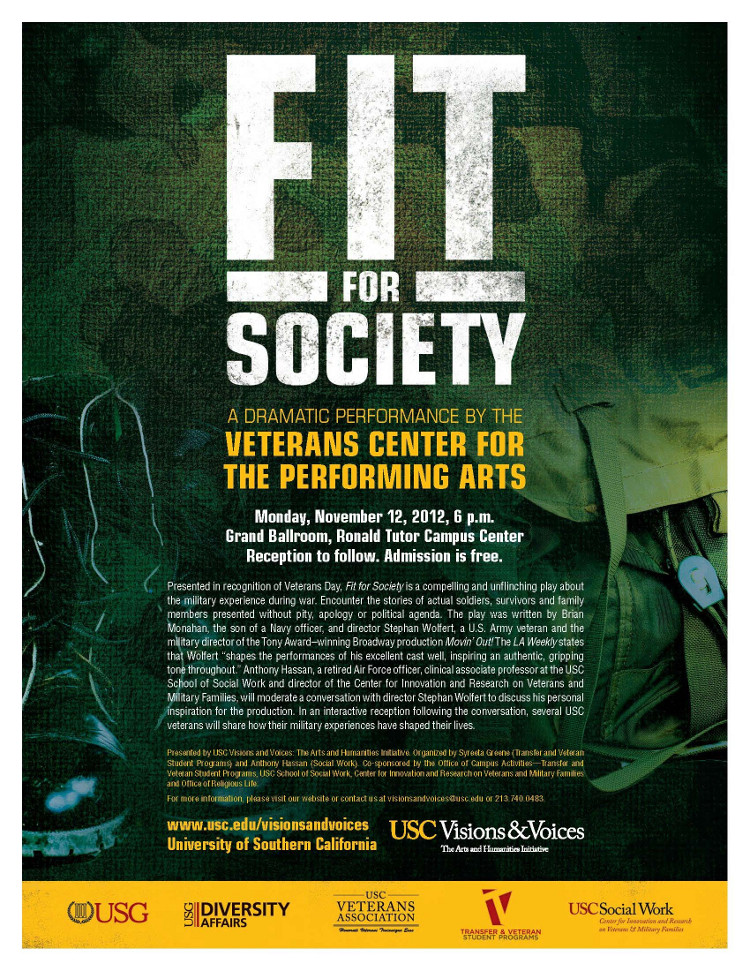 Written by Brian Monahan & Stephan Wolfert
Directed by Stephan Wolfert, the military director of the Tony Award-winning Broadway production Movin' Out!
FIT FOR SOCIETY was a compelling, unflinching, live presentation of the trials and anecdotes of the military experience during a time of war. Honest, funny, moving, poignant and awe-inspiring, FIT FOR SOCIETY was told from the perspective of actual soldiers, survivors and family members. Audiences experienced these actual stories presented without pity, apology or political agenda.
In a 65 minute presentation, audiences met:
Drill Sergeant Hill: The consummate military mentor. In spite of a cleft palate, he excels to epitomize what inspires men and women to become great soldiers.
Colonel "Gump" Gaines: The seasoned, weathered, professional, career military officer. Humble, in spite of having seen it all, from the fall of communism to the expulsion of Iraqi forces from Kuwait. All anyone ever wants to know is if he's ever killed anybody.
Lance Corporal Wheeler: A young Marine who lost both legs from an I.E.D. in Iraq. His injuries are so new that he avoids his situation by making people laugh.
The Army Combat Veteran: This man's gift is combat. The saying is "bad civilian, good soldier." He is just a man who doesn't fit in the civilian world and is very good at war.
Female Air Force Officer: Women have the "double whammy" of dealing with all that comes with combat regardless of gender, AND all that comes with being a woman in command of men in combat.
Male Spouse: It's been said that behind every good man is a great woman, so it stands to reason that behind every good soldier there's a great civilian. It's hard enough to be a spouse, but try being the male spouse to a female Marine.
Navy Submariner: Before there was e-mail and video conferencing soldiers and loved ones shared their lost time with letters and tapes.